Hotstar is the go-to app for live streaming of sports and TV. It's a video streaming software with 500M+ users actively using it. There are thousands of free videos available to stream. Thousands of hours of Indian movies, series, and TV shows are available for free on this platform.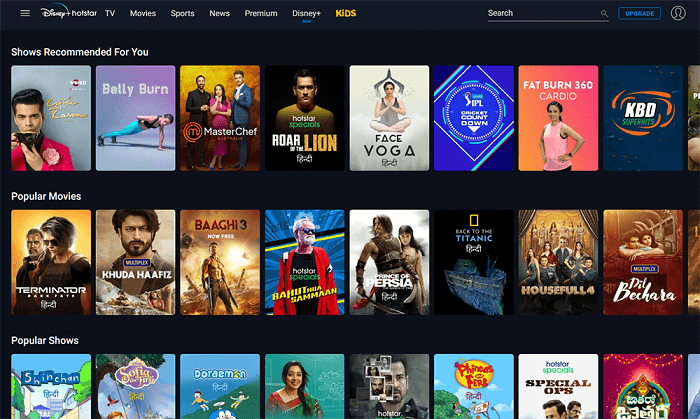 Giving access to plenty of content online, Hotstar is easily one of the best online streaming platforms available on the internet as of now. With all these crazy features given by the developers, the offline download feature for free is missing and wanted by the whole market. Yes, you can download the videos offline, but it's charged.
This means if you want to download your videos offline, you have to pay for the feature. However, we all want to download our content offline to watch it whenever we want. If you are out of internet connectivity, you might want to download videos offline so that you can watch them at your convenience.
No matter what your reason is, you may be wondering if there is any option to download videos online without spending additional money from your pocket.
If you are one of them, don't worry. We have got you covered! We have some surefire workaround ways to download Hotstar videos online.
In this article, we have mentioned all the methods -tried and tested to help you download your videos easily!
So, Stick with us till the end of the article, and we promise you you have many options on how to download Hotstar videos online.
Downloading Videos Via Hotstar App
The Hotstar app, available on the Play Store and App Store, offers a download feature. The only catch here is that you need to have a premium account. The premium account includes various features, such as access to movies unavailable in the free section.
You can also download your movies, TV series, or any sports TV show you want to watch at any resolution and in any language supported by the Hotstar app.
Once you download a particular video, it only stays for seven days if you have not started watching it. Once you start watching the video, it remains downloaded for the next 48 hours. While downloading, you can customize your video download resolution. There are multiple options for video download resolution, starting from low and then medium, then high and the final one is full HD.
As you increase the download resolution, the download size of the video increases. And once the download is complete, the Hotstar app notifies you. Once you subscribe to the premium feature, you can download your videos and have them offline. However, note here that you can only watch the videos through the Hotstar app. This means you cannot have them downloaded on your mobile device.
Third-party applications
Many third-party applications help you download Hotstar videos online. These apps work in a very efficient and ordinary way. They have videos of various platforms you can browse through, and with the click of one download button, it can be downloaded on your device at the resolution of your choice.
There are many options, like Videoder, Snaptube, Desidownloader, etc. But the one most frequently used is "Instube." "Instube" empowers you to download videos from dozens of social media platforms like YouTube, Hotstar, Instagram, Facebook, etc. You can download videos in 4k, HD, and many other options. Let's follow the step-by-step process of installing the third-party app and downloading Hotstar videos online.
Step 1: Open your browser and go to the instube's website.
Step 2: Click on the download button and press OK. The download will start automatically.
Step 3: Once the download is complete, provide all the necessary permissions from settings.
Step 4: Launch the app. If you do not see Hotstar listed on the panel, use the "add" button, search for Hotstar and add it to the panel.
Step 5: Now, click on the Hotstar icon from the panel, and voila! You can now search and choose any video and download it using the red download button in 4K resolution.
Using Third-Party Websites
Third-party websites are more convenient when compared to third-party applications. You don't need to download any application to download the videos online. The website takes the URL, converts it, and downloads the video. All you have to do is press a button.
The website we are going to talk about is VideoToSave.com. You can also compress the video and customize the download quality according to your mood and the video size. Now, let's get into the detailed step-by-step process of downloading a Hotstar video online via a third-party website.
Step 1: Go to the official app of Hotstar.
Step 2: Copy the URL of the video you desire to download online.
Step 3: Head over to the VideoToSave.com website.
Step 4: Paste the previously copied URL into the prompt. Verify the Captcha
Step 5: Click on it to download the video. Select the format and video size and confirm the download.
Step 6: Your desired video will now be directly saved to your local storage once the download is complete.
That's all! You can enjoy Hotstar videos offline without having to pay for a premium subscription.
Another method that you can try is joining Telegram channels that provide free content on their channels. Usually, you can find these channels online. However, you will have to search for the content manually.