With so many different places to explore, who doesn't love to travel to different countries? Traveling across different countries can be one of the most enhancing experiences. When talking about other countries, the United Kingdom is among the most visited countries of all time. People like to explore Scotland, Wales, Northern Ireland, and the UK.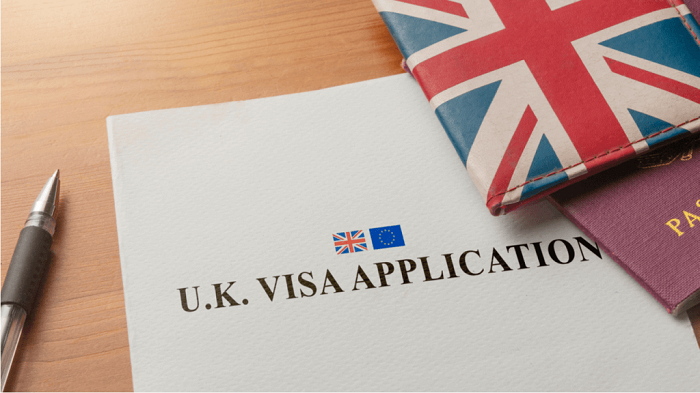 The United Kingdom houses several people annually willing to visit it for business, study, leisure, etc. Like every other country, the UK has its visa policy and rules to allow people to enter the country. These policies generally clarify how an individual can take permission from the government of the UK to visit.
The visa applicant will be required to fill out an application, pay fees, and book an appointment to submit biometrics and other details. Many applicants get concerned after filing their application and desire to track its status.
After applying for your UK visa, the curiosity to know where the process has gone so far is common. You may want to know how long the process will take or where your process is so far.
Fortunately, you can track your UK visa using a GWF number, passport number, or reference number online without any fee. Your GWF number is given as soon as you apply for your UK visa, through which you can track your application.
In this article, we will help you with a step-by-step guide on how you can track your UK visa status using your GWF number without any hassle!
With that, let's get into the details ahead!
How Can I Track My UK Visa Status Using The GWF Number?
After applying for your visa, make sure you keep a note of your GWF number. You may also receive this through SMS on the given mobile number. Once you have your GWF number, here are the next steps you should follow.
Step 1: Open the UK visa tracking website or click on https://www.bluedart.com/home from your device using a browser.
Step 2: You can see the "Trackdart" option. Under that option, you should click on the "Ref no" tab.
Step 3: In this step, you will be needed to enter the GWF number. However, you should only enter part of the number. For example, if your GWF number is GWF0986543, you must omit the "GWF0" and "43"(last two digits) parts and enter the rest of the number.
Step 4: Click on the "Go" button. Once done, you can see the current status of your UK visa application online for free.
How Can I Track my UK Visa Status Without the GWF Number?
You can access the UK visa government website to know your visa status without entering GWF or a reference number. You can call the UK visa office to see the status of your visa application and write them a letter to get information about the latter.
Step 1: Visit the official websites of the government of the UK or click on https://www.gov.uk/.
Step 2: Select the "Visas and Immigration"
Step 3: Tap on "What You Need To Do"
Step 4: Under the "To manage your application" section, click on the contact "UK visas and Immigration about your application."
Step 5: Select the option stating where you are applying from. The options can be "Outside the UK" or "Inside the UK."
Step 6: Choose your preferred language and tap the "Next" button.
Step 7: Once done, you can see information regarding visa and Immigration, such as the telephone number or email id. You can choose to call them or write a mail at your convenience.
UK visa office telephone info:
Phone number: 00 44 203 481 1736
Service center availability: Monday to Friday (24 hours)
Charges: 1.37 euros per minute + standard network charges
UK visa email info:
Email ID: To write a mail to the UK visa office, you will be required to click on the "UK visas and immigration" option on the website and fill out a form that will notify the UK visa office.
Service center availability: Monday to Friday (24 hours)
Charges: 5.48 euros for the first email and free follow-up emails on the same inquiry.
Wrapping up
Traveling the world and exploring new countries is one of the best experiences one can have. Speaking of which, the UK is a dream country for many people. Whether you are going to the UK to study or to explore the country, you need to apply for a visa.
Once you apply for your visa, it takes a few weeks until you receive a confirmation. Your visa may get rejected or approved, depending on the embassy and your documents. Before applying for your visa, ensure that you submit all your documents and that they are clear.
Any wrong document or information can lead to visa rejection, and that's the last thing you are looking forward to! After you have applied, you may be curious to know where the process has reached so that you can plan things accordingly.
With our step-by-step guide, you can track your visa status with or without a GWF number. So, go ahead and see how far your visa processes it!
We hope this article helped you track your visa status for the UK. Happy traveling!
Frequently Asked Questions
1. What should be included in the mail regarding the UK visa application status?
You must include your name, GWF number, and a concise description of the purpose of the mail.
2. When should I expect a reply from the UK government regarding the visa application status?
You will likely get a reply within 48 hours of sending the mail.
3. How can I complete the payment when contacting the visa and Immigration staff?
You can make the payment with a debit or credit card.
4. Can I directly call the UK visa and immigration office urgently?
Yes. You can contact the UK visa and immigration office on the above number and ask them about your query.